According to http://bleacherreport.com are now say don't look now, but the Cleveland Cavaliers trail the Golden State Warriors 3-1 in the NBA Finals.
Cleveland avoided a sweep and extended its season with a 137-116 victory over Golden State in Friday's Game 4 at Quicken Loans Arena. LeBron James led the way with a triple-double of 31 points, 11 assists, and 10 rebounds, while Kyrie Irving added 40 points and seven boards.
The series now shifts back to Oracle Arena for Game 5 on Monday as the Cavaliers will attempt to become the first team in NBA history to overcome a 3-0 deficit one year after overcoming a 3-1 deficit on the same stage against the same opponent.
Cleveland could have hung its head after losing Game 3 despite a late lead, but it instead came out with an edge.
All the home team did be set an NBA Finals record for points in a quarter with 49 in the first, per NBA.com/Stats, and continue the offensive onslaught with 86 points in the first half. Ray Ratto of CSN Bay Area noted the 1985 Boston Celtics set the previous record for first-half points in a Finals game with 79 against the Los Angeles Lakers.
Cleveland's 26 free-throw attempts in the first half helped, but this was a completely different team than the one from Wednesday. Kevin Love went 1-of-9 from the field in Game 3 and responded with 23 points, Tristan Thompson turned zero points and three rebounds last time into 10 rebounds and five assists, and JR Smith tallied 15 points on five triples.
The role players provided a boost, but the James and Irving duo spearheaded the effort.
James finished with a plus-minus of plus-32, per ESPN.com, and became the all-time leader in NBA Finals triple-doubles with nine, passing Magic Johnson, per Joe Vardon of Cleveland.com. He also mixed in some style with an alley-oop to himself: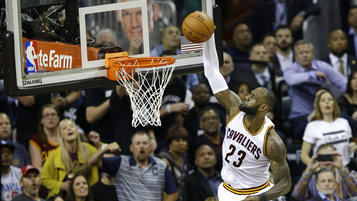 His effort was good enough to surpass Michael Jordan for the third-most points in NBA Finals history: